Kensington
Kensington is a small, primarily residential community located about 5 miles northeast of Downtown San Diego. It is named after the district in west London, and several of its street names are references to other parts of England. The area is situated on high ground, but has a large network of canyons that come in from the north.
Kensington Real Estate Listings
To browse Kensington San Diego homes for sale, please view our Kensington Real Estate Listings.
What's Cool About Kensington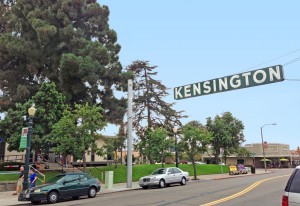 Most of Kensington's attractions can be found on Adams Ave. and El Cajon Blvd. In fact, one can find much of what makes the area unique on just a single block of Adams. Kensington Grill and Bleu Boheme serve up delicious New American and French cuisine, respectively. Ken Cinema is a historic single-screen theater that shows independent and foreign movies, and Kensington Video has the city's best selection of rare and obscure films. Just one block away from all this, a small park and library can also be found. Other attractions that are outside Kensington but still close by include Qualcomm Stadium, the malls of Mission Valley, and the museums of Balboa Park. San Diego State University is also located just two miles to the east.
Kensington is bordered by the I-8 to the north and the 15 to the west, so residents can easily travel throughout the city. The region's population tends to be single young to middle-aged adults. Rents in the area are fairly cheap, and many houses to the north have beautiful canyon views. Kensington may be small, but its excellent location and local businesses make it a great place to live in San Diego. By Gary Kent
To learn about Kensington homes for sale, Kensington real estate listings, and homes and real estate in other communities near Kensington, please return to our Central San Diego page.
For advice on selling your Kensington home, visit our Seller Resources page. For tips on buying a Kensington home or other San Diego real estate, visit our Buyer Resources page.