La Mesa
As its name (Spanish for "the table") implies, the eastern San Diego community of La Mesa is situated on relatively flat hills and highlands. This populous region lies just outside of metropolitan San Diego and contains a mixture of commercial and residential areas. Its climate is a bit warmer than the county norm, with average highs reaching the mid-80s during the summer.
La Mesa Real Estate Listings
To browse La Mesa homes for sale, please view our La Mesa Real Estate Listings.
What's Cool About La Mesa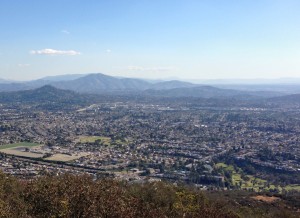 In addition to the fourteen parks scattered throughout the city, Lake Murray and the surrounding parkland to the north are ideal for those who enjoy the great outdoors, offering a peaceful, picturesque spot to swim, fish, jog, bike, rollerblade, and picnic. Cowles Mountain to the north and Mt. Helix to the southeast also boast spectacular views for miles in all directions. Numerous shops and restaurants are located at the core of the city, including the Grossmont Shopping Center. Annual events like the Flag Day Parade, Oktoberfest and the Back to the 50s Car Show exemplify the sense of culture and community that La Mesa possesses. There are community colleges nearby for those in search of higher education, and San Diego State University lies about a mile to the west.
La Mesa is bordered by San Carlos to the north, El Cajon to the east, Spring Valley and Lemon Grove to the south, and College Grove to the west. While La Mesa is an inland region, residents can take the I-8 downtown and to the beach in only about 20 minutes. About half of locals rent, often for $600–$1,000 a month, and the area has a high proportion of single-person households. La Mesa's sunny weather, abundant shops and scenic vistas will suit explorers and urbanites alike. By Gary Kent
To learn about La Mesa homes for sale, La Mesa real estate listings, and homes and real estate in other communities near La Mesa, please return to our East San Diego County page.
For advice on selling your La Mesa home, visit our Seller Resources page. For tips on buying a La Mesa home or La Mesa real estate, visit our Buyer Resources page.