Beach-Barber Tract
The Beach-Barber Tract is a coastal neighborhood located toward the middle of La Jolla. Originally called "Neptunia" in the late 1800s, it was renamed in the 1920s for landowner Phillip Barber and for Windansea Beach, celebrated for its top-notch surfing and soothing orange sunsets. Many Beach Barber Tract homes were built in the early 1940s and designed by some the finest architects San Diego had to offer. A typical day here is sunny and 68 degrees—perfect conditions for a life in paradise.
Beach-Barber Tract Real Estate Listings
To browse Beach-Barber Tract homes for sale, please view our Beach-Barber Tract Real Estate Listings. To learn more about Beach-Barber Tract living, continue below.
What's Cool About Beach-Barber Tract
Beach-Barber is mostly residential, but La Jolla Boulevard, its main thoroughfare, is lined with a variety of shops and restaurants. Aside from swimming, surfing and sunbathing at the beach, outdoorsy residents can also bike or jog along the scenic La Jolla Bike Path. The La Jolla Country Club lies just to the east, while
the Village
to the north is packed with countless retail, dining and entertainment options.
The pricey but spacious homes in this area come in a wide range of styles, from English Cottage to California Ranch. Beach Barber Tract spreads east to Fay Avenue, south past Bonair Street, north to Marine Street, and west to the ocean. Less hectic than the Village but more exciting than Upper Hermosa and Lower Hermosa to the south, it's an ideal choice for a life in balance. By Gary Kent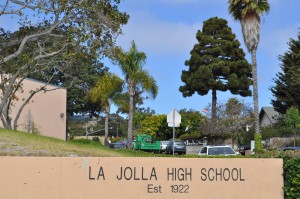 Beach-Barber's La Jolla High School was ranked in the top 100 public high schools in the nation by Newsweek, while the private Bishop's School just outside the area's north border is known for its high rate of entry into top U.S. colleges. Here are the schools you can find in and near Beach-Barber:
Bishop's School (private)
Gillespie School
La Jolla Elementary
La Jolla High School
Muirlands Middle School
The locals are known to stop by Carino's for a crispy thin-crust pizza, the Windansea Café for a Mediterranean bagel with feta, egg, tomato and basil, and Rigoberto's for mouthwatering burritos and carne asada fries. The Shack Bar & Grill is a great place to unwind after a long day. Here's a taste of the great restaurants in the area:
Barleyanfigs
Carino's
Mandarin House
Rigoberto's
Shack Bar & Grill
The Promiscuous Fork
Verdes El Ranchero
Windansea Cafe
Most of the shopping and businesses in Beach-Barber can be found along La Jolla Boulevard. A huge additional selection of boutiques and galleries is available in the Village just to the north.
Here are some points of interest you'll find in and around Beach-Barber:
Coggan Aquatic Complex
La Jolla Bike Path
La Jolla Country Club
Shopping & dining in the Village
Starkey Mini-Park
Windansea Beach