Mira Mesa
Mira Mesa is a large and heavily populated San Diego neighborhood. The land was owned by the military for several decades, but experienced rapid residential growth in the 70s, with commercial expansion following in the 90s. As its name suggests, its terrain is largely flat in contrast with the hills and canyons of Sorrento Valley to the west.
Mira Mesa Real Estate Listings
To browse Mira Mesa homes for sale, please view our  Mira Mesa Real Estate Listings.
What's Cool About Mira Mesa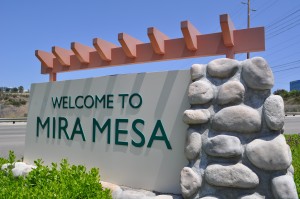 At the neighborhood's center is a hub that includes Mira Mesa High School, an expansive shopping center, and a wonderful park with basketball courts and several baseball fields. In fact, Mira Mesa is dotted with lovely community parks throughout, and has the Los Peñasquitos Canyon Preserve to the north for hiking and nature-watching. The nearby Miramar Reservoir also offers opportunities for boating, fishing, biking and more. Indian, Filipino, and Vietnamese specialty markets add an exotic flair to the area's shopping selections. The area also holds both a Fourth of July Celebration and a Mira Mesa Street Fair each year.
Mira Mesa has the 15 Freeway at its eastern edge and the 805 to the west, allowing for good access to both the downtown area and San Diego's northern reaches. Sorrento Valley to the west provides a major source of employment in the technology industry. The population is family-oriented, diverse in both age and ethnicity, and tends to live in single-family residences. For those who need an endless source of activities to keep themselves occupied, Mira Mesa is a natural choice. By Gary Kent
To learn about Mira Mesa homes for sale, Mira Mesa real estate listings, and homes and real estate in other communities near Mira Mesa, please return to our San Diego North County Inland page.
For advice on selling your Mira Mesa home, visit our Seller Resources page. For tips on buying a Mira Mesa home or Mira Mesa real estate, visit our Buyer Resources page.