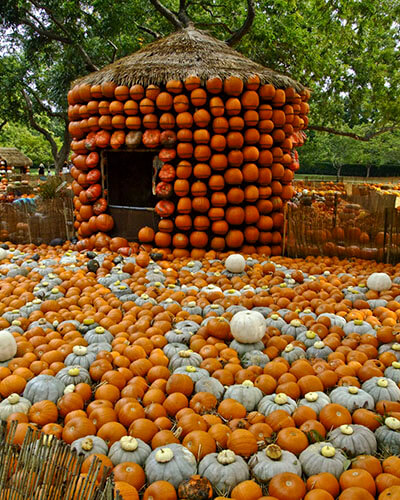 This week's Crazy Building is not just one, but a whole village! The Pumpkin Village can be found once a year at the Dallas Arboretum and Botanical Garden.
The Arboretum is located next to the White Rock Lake and is situated on 66 acres of land. In 2016 they had over 1 million visitors from all 50 states and 90 countries. It's listed as one of the top arboretums in the world.
This year they have gone all out, creating a Wizard of Oz themed experience made up of 90,000 pumpkins, squash, and gourds—oh my!
The Pumpkin Village was crafted by the Arboretum's employees over hundreds of hours and even includes a real yellow brick road.
Interestingly, this year features many edible varieties of pumpkins such as the Table Ace, Marina de Chioggia, and Jarrahdale. Providing satisfaction for the eye as well as the appetite!
You can read more about the Pumpkin Village here.