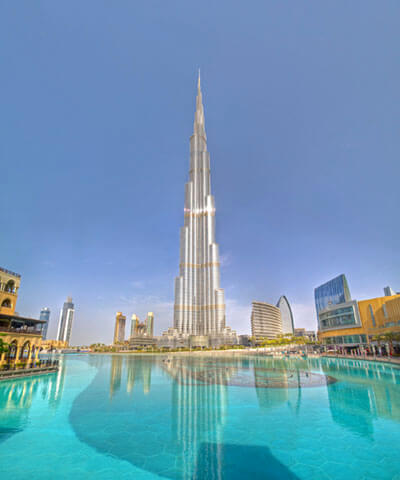 Located in Dubai, the Burj Khalifa is currently the tallest free-standing building in the world. It recently set another world record on New Year's Eve 2017 for the largest laser light and sound show on a single structure.
Standing at 2,716.5 feet tall (imagine 7.5 football fields placed end to end!) it contains 31,400 metric tons of rebar. If the rebar was laid end to end it would reach over a quarter of the way around the earth! The 160+ story building is made in a Y shape to allow for optimal views of the Arabian Gulf. The design was inspired by the patterning of Islamic architecture and the Hymenocallis flower (also known as the spider lily).
Consisting of 3 components around a central axis, as it ascends the components fade away leaving only the center. The structure was meticulously tested in a wind tunnel for stability. Interestingly the building utilizes a "sky-sourced" ventilation system to pull in cooler air from the top.
The creators were the Chicago office of Skidmore, Owings, & Merrill LLP (SOM) with Adrian Smith FAIA, RIBA, as consulting design partner. Construction took place from January 2004 to September 2009 and is estimated to have taken a total of 22 million man-hours!
The Burj Khalifa is a mixed-use building and contains apartments, a hotel, and offices. Additionally, it has swimming pools on the 43rd and 76th floors which open to the outside. Over 1,000 pieces of art were commissioned for the interior and surroundings. Many pieces were on the theme of global harmony to symbolize the multicultural achievement of completing the building.