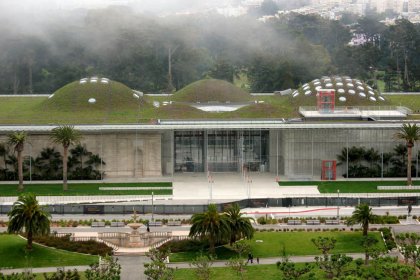 Thanks to its greenroof, the California Academy of Sciences blends into the surrounding hills of San Francisco's Golden Gate Park. This unusual architectural marvel was made using about 50,000 biodegradable trays of tree sap and coconut hulls. They contain the roof's vegetation and allow roots to grow across trays which helps bind them together. The roof is home to over 50 species of native plants and various animals.
The 2.5-acre roof captures 98% of stormwater and keeps the inside 10 degrees cooler than outside. The domes have skylights equipped with heat sensors which will automatically open when needed to cool the building. Solar panels provide about 10% of the building's electricity. Visitors can get a closer look at this very interesting roof on the observation terrace.
Inside the California Academy of Sciences, visitors will discover things like an indoor rainforest, and a 212,000-gallon coral reef exhibit said to be the deepest living display of its kind.
This site was formerly home to 12 different structures. Now they are all under one roof. The new building cost $429 million and opened in 2008. The Architect was Renzo Piano Building Workshop. Renzo Piano is known for designing the Centre Pompidou in Paris. He is a recipient of the Pritzker Architecture Prize which is like the Nobel prize of the architecture world.
The California Academy of Sciences is the world's first and largest double LEED Platinum museum. LEED, or Leadership in Energy and Environmental Design is a rating system that determines the environmental performance of a building. Scores are calculated with a point based system and platinum is the highest level available.