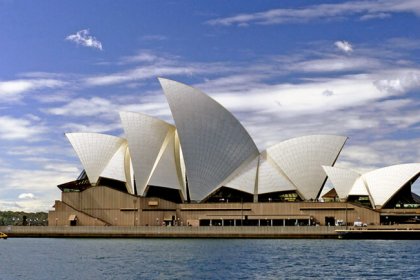 Little did architect Jørn Utzon know when he created his initial drawings, that the Sydney Opera house would become a milestone in 20th century architecture.
Utzon was 38 when he submitted his entry in the design competition. An unknown architect at the time, he was surprised when his sculptural design was selected from over 200 international submissions.
Utzon's design utilized geometrical forms all coming from the sphere. Using this approach is possibly what gives the Opera House its timeless appeal.
The design also evokes a ship's sails, which is especially relevant due to the location of the Opera House at the Sydney Harbor.
Engineering this structure was no easy feat. Utzon himself eventually came up with the solution after many design iterations.
Since it's opening day the Opera House has seen millions of visitors and become synonymous of both Sydney and Australia. In 2003 Utzon received architecture's highest honor, the Pritzker Prize. In 2007 the Opera House was added to the UNESCO World Heritage List. It is the youngest cultural site to ever be included.
You can find more posts on Australia's odd architecture here, or discover another fascinating crazy building here.