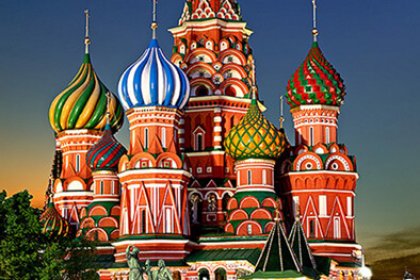 With its bright colors and fairytale design, Saint Basil's Cathedral in Moscow seems like something straight from a storybook.
Completed in 1561 it was built in just 6 years and commissioned by Ivan IV or Ivan the Terrible. It's next to the Kremlin in the Red square. In Russian, red used to mean beautiful. During the winter you can ice skate in the square.
According to legend, Ivan IV blinded the architect so he couldn't build another cathedral as lovely. The bright colors were added about 100 years after the construction. Both the color and style of the domes became the look for orthodox structures in Russia during the 19th century.
There are a total of 9 churches in the Cathedral, each representing a military victory over Kazan.
Surprisingly small, the maze-like inside is even more ornate than the outside. Originally, it was unheated. When Saint Basil was canonized in 1588 the 9th church was added. It was heated and open to the public all year round. At this point, the Cathedral became known as Saint Basil's.
Ranked among the top attractions, Saint Basil's Cathedral is a must-see if you visit Moscow.
Located in Red Square, Moscow. Can ice skate in the square during the winter.