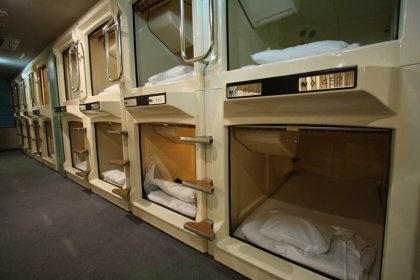 At first glance, this may look like a row of washing machines but they are actually rooms at a Capsule Hotel. Room sizes vary but the average is about 4 feet wide, 6.5 feet long, and 3 feet high. Composed of a narrow space with a bed and some other amenities such as an alarm clock and air conditioner these unique rooms contain only the essentials for a night's rest. Communal areas often exist where you can relax in a larger space.
While the first Capsule Hotel was in Osaka, Japan they are now all over the world in places like Taipei, Kuala Lumpur, Singapore, Bali, and Brazil.
With the growth of new locations, the look and feel of the Hotels are changing too. Instead of a simple utilitarian look, modern, chic, and artistic styles are emerging. Paris even plans to implement its own version, inspired by bookseller huts on the Seine river.
With economical pricing, it's easy to see why they appeal to tourists. For $30 to $40 per night, the Capsule Inn Osaka includes features such as a restaurant, sauna, spa, indoor pool, laundry service, and wifi.
It will be interesting to see how this unique variety of hotels develop in the coming years.
Journey to another unusual piece of Japanese architecture here or discover another crazy building here.