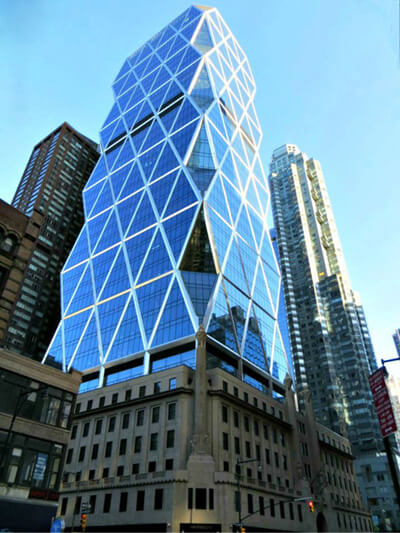 The unique Hearst Tower in Manhattan was several firsts for New York City. The first green highrise, first LEED Gold-certified skyscraper, and it also took first place with the Emporis Skyscraper Award winning best in the world.
The diamond grid on the facade not only gives it an uncommon look but also used 21% less steel and 90% of the steel used was from recycled materials. Other notable green factors include the use of recycled rainwater, natural ventilation, and limited interior walls to facilitate greater natural light.
The 46-story tower sits above the original 6-story cast stone structure built in 1928.
Hearst Tower is home to publications such as Cosmopolitan, Esquire, Marie Claire, and Good Housekeeping.
Discover another piece of New York's unique architecture here or find another crazy building here.