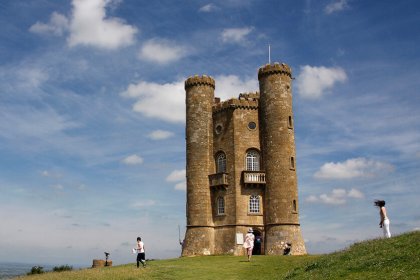 The Broadway Tower in Worcestershire, England stands at 55 feet high. This "folly" or building made for purely decorative or conversational purposes was built in 1798.
The location affords a view of a pre-medieval trading route and beacon hill. The Tower includes turrets, battlements, gargoyles, and balconies. Visitors can climb three floors to the top where they can see up to 16 surrounding counties.
Also on the grounds are a herd of red deer, museum, shop, cafe, park, and nuclear bunker! The bunker lies 15 feet below ground and has been restored to how it would have been in the 1980s. Its purpose was to observe the effects of nuclear explosions and fallout.
The Tower was purchased in the 1980s by Hans-Eugen Will who had a vision to open the property to the public. Today his daughter continues that vision.
Discover another interesting English building here or another crazy building here.