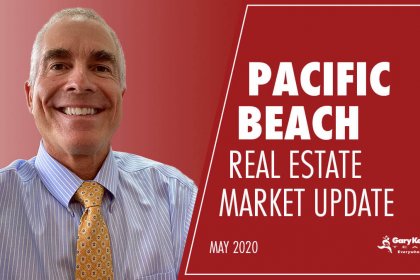 Here's your Pacific Beach, San Diego real estate market update for May 2020
So how's the Pacific Beach real estate market doing in the middle of this pandemic? People have been asking me this a lot these days.
We're only talking about Pacific Beach. Not Mission Beach, La Jolla, etc.
Let's start with an overview of the single-family market in Pacific Beach. there are 34 houses for sale and 16 that are pending. Pending is our word for in escrow. And condos, there are 46 for sale and 19 pending.
Comparing mid-April to mid-May 2019 vs 2020 we're going to look at the number of homes sold, the average market time, average sales price, and the average price per square foot.
A quick note on price per square foot, it's not how you determine the value of a home because it doesn't take into account other factors such as lot size, view, condition, garage, curb appeal, decor, floor plan, etc. We are using it here because it can be useful to show trends.
Watch the video for more details. If you are thinking of selling your home call / text me at 858-457-KENT (5368) or email gary@garykent.com. I'm happy to answer any questions you may have.
I also want to give you a copy of my book "The 22 Secrets to Selling Your Home For the Most Money in the Shortest Time with the Least Hassle." It's an easy read filled with valuable tips. (This offer is only for those selling a home or property in San Diego.)