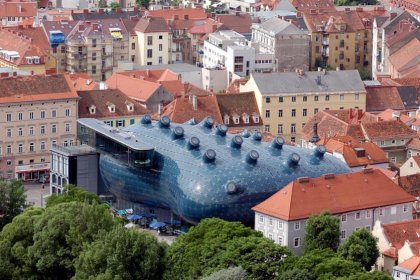 Move over, E.T. there's a new alien in town! The Kunsthaus Graz was nicknamed "the friendly alien" by architects Peter Cook and Colin Fournier. Located in Graz, Austria, this biomorphic structure makes a striking contrast to the traditional surrounding buildings.
Inside you'll find contemporary art ranging from the 1960s to today. About 119,479 square feet of space along with a modern and cost-effective air-conditioning system to are among its amenities.
The exterior is actually a multimedia display. 946 conventional fluorescent lamps brighten, dim and flash to create animations, pictures, and text. Surprisingly, it only costs about $49 per month to operate. Although it sounds simple, this technology made a big splash in the architecture world, elevating its creators to international status. A sample of the display was recently added to the Museum of Modern Art's collection.
To see another unconventional building in the midst of a traditional setting, check out my post on the Metropol Parasol, located in Seville, Spain.